Rahul Meters
We are the leading manufacturer of 'RAHUL'® brand water meter in India since 1963. We have supplied more than one million water meters to our Govt. and other Corporate Clients in the past. Our water meters are available in 15mm size to 50mm (Domestic Type) conforming to BIS specification IS: 779/1994 (Domestic Type water meter) and 50mm size to 500mm size in magnetic drive (Woltman Type water meter)in ISO specifications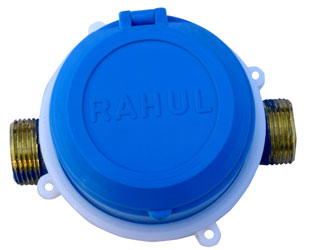 Above meters are conforming to
1. Bureau of Indian Standard where applicable as per approvals .
2. ISO: 4064 - 2005
3. Approved by MID according to 2009/137/IEC EUROPEAN DIRECTIVES
4. Approved by the European Council Directives for measuring instruments EEC to use CE (conformite Europe) marking on our product.
5. Modal approved at FCRI . (ref. the approved modal in modal approval certificate out of our entire range of domestic series )
Our water meters have witnessed and proven successfull in the MAP(Modal Approval Program) approved by FCRI one of the  most recognized laboratory for "life cycle" assessment of products related to water and water technologies.  
QUALITY ASSURANCE LADDER:
1.

ISO 4064 Product approval

Our products confirm to the requirements of ISO 4064 an international standard organization.

2.

ISI MARKED & APPROVED for IS:779-94 amended up to date

The best localized standard organization, a  Government of India undertaking which formulates localized pertinent specifications suitable for India while chossing the best specifications from all the international standards including ISO 4064, MID and AWWA.

3.

MAP F.C.R.I.

This is the most important certification to enable the buyer to asses the functioning of water meter over the entire life cycle of the product , the certifying agency is an approved laboratory of BIS and happens to be a GOI undertaking research institute i.e. "FLUID CONTROL RESEARCH INSTITUTE" PAllakad Kerela

 

4.

CE marked following MID directives of EU

Our products are approved by the "Measuring Instrument Directives" MID for use of CE mark usually CE is used for selling products to EUROPEAN UNION while complying to EU standards .

5.

VENDOR Approved for RUIDP (ADB/WB/Central Govt.) Funded/Loaned projects

We are approved Vendor for RUIDP/BUIDCO(BIHAR URBAN INFRA. DEVELOPMENT CO.) and have till date supplied almost 150,000 nos. of water meters for various WSP under RUIDP & BUIDCO initiative.

6.

      
     AMR

We have developed our own AMR system which is in trial phase , the best part about our AMR is that it is completely developed by us and using our vast 55 years of metering experience , we would be launching the same within 2018 with the most reasonable pricing compared to the existing products in the market .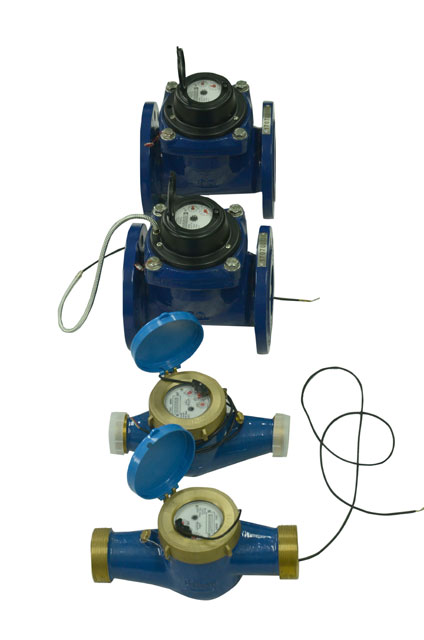 We are also manufacturing Orifice Flow EqualizerTM for the tremendous saving of water pressure in service line and the equal distribution of pressure to the water consumers. Our firm is an ISO: 9001:2008 certified concern.
We have supplied more than one million water meters to our Govt. and other Corporate Clients in past few years.
 The firm was established in the year 1964 along with an OEM supplier & in time-bound collaboration with a Czechoslovakian co. "Prema"  later our firm established its own product range and design with the help of its own R&D department .
 The firm is operational in the following fields for its manufacturing:
In house non ferrous foundry.
Machining facility   .
In house testing facility with capacity to test 1300 water meters of 15mm size per day.
In house testing facility for bulk water meters and the different sizes of domestic range .
Plastic injection molding machines (both semi automatic and automatic )
We have ultrasonic welding machine for plastic parts.
Pin engraving machines for numbering our product .
Shot blasting equipment for body finish
Core shooters for making shells and cores for casting
Paint shop for paint finishing according to client requirements .
Newly setup Electronics and research lab
A fully functional development and research center for developing and innovating the products to provide best to our customers .
Details of the Firm :

Name

Rajasthan Industrial & Scientific Corporation

 
Address

Plot no. 39 & 40 Industrial area, Jhotwara - Pin code 302012
City: Jaipur
Province/State : RAJASTHAN    
Country : INDIA

Telephone no.

+91-141-2340272 / 8610 / 5094

Fax.

+91-141-2340109

Website

E-mails

rahulmeters@gmail.com / info@rahulmeters.com / devendra@rahulmeters.com

Market area

Pan India

Products

15mm to 500mm class B Magnetic water meters , orifice flow equalizers , CI detachable joints for water & pipe repair bandages for emergency repairs of water leakages.

Contact persons

Devendra Bohra (partner/strategic alliances)

Contact No.

+91-94140-54555 / +91 94140-54187(Mr. Devendra)

Factory and Office

+91 141 2340272 / 2345094 / Fax - 2340109